New Location
We've moved closer to the terminal
Same great parking.
Even better location.
The next time you leave for next great adventure, look for jetSet Parking YEG in a brand new location! Effective Monday, November 16, 2020, you can find jetSet Parking even closer to the terminal for a new low price of $3 per day!

Book online with promo code MOVEIT to selfPark for $3 per day. Valid only on online reservations for travel from November 23, 2020 to March 31, 2021. Offer subject to change without notice.
What you can expect
Shorter shuttle rides
You're within walking distance to the terminal (hello contactless parking!)
The same easy selfPark service as before
The absolute best value on airport parking
Pay in terminal while you wait for your baggage (for non-reservations)
Where to find us
Follow the signs to jetSet Parking. Our new location is adjacent to Value Park. When approaching the airport continue toward the terminal until you see the jetSet parking entrance on your left. Park your vehicle and walk to the marked shuttle stops on the west side of the lot at rows 6. 9. and 12. Or choose to walk to the terminal (approximately 10 minutes). Upon your return to Edmonton, you can board the shuttle bus at door 9 or walk to your spot through the parkade.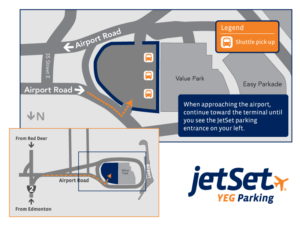 Frequently Asked Questions (FAQ)
You may have some questions about how our service has changed. We have collected some of our frequently asked questions below. If you require further assistance, contact 780-890-8625.
Q: I booked my reservation for a date after November 16 at jetSet selfPark before I knew it was moving, do I need to update my reservation?
A: No, your reservation will automatically be updated to provide access to the new parking lot. Use your credit card as an access card at the gate to enter the parking lot.
Q: I am parking my vehicle at the current jetSet lot and will be returning after November 16, what will happen to my vehicle?
A: You will still be able to retrieve your vehicle from your parking spot. Simply board the shuttle at door 9 and follow the exit signs to leave the parking lot.
Q: Is EIA Park Assist available in the new location?
A: Yes, EIA Park Assist is available for all jetSet Parking customers who require assistance with flat tires, dead batteries, excessive snow removal, and other issues with vehicles. Call 780-890-8983 for assistance.
Q: Is valetPark available in the new location?
A: No, valetPark is temporarily closed until further notice.
Q: Is baggage drop available in the new location?
A: No, baggage drop has been temporarily suspended until further notice.
Q: Is the new parking lot accessible with ramps and shuttle buses for disable persons?
A: Yes, the shuttle bus has been adapted for wheelchair users with ramps into the terminal building.
Q: Where are the new pay stations located?
A: Pay stations are located inside the terminal on arrivals and departures levels, and also in the parking lot. You have 15 minutes to exit the parking lot after you pay.
Q: What are the hours of operation for the new jetSet lot?
A: The jetSet lot and its shuttle bus service are open and available 24 hours a day, 365 days a year to serve our jetSetters. jetSet has staff on duty 24 hours a day with video surveillance cameras and a security gate around the entire perimeter.
Q: Are there heated or covered shelters available while waiting for the shuttle?
A: No, heated or covered shelters are not available.